Banquet Hall
Being one of the reputed hotels located in Jaipur, Rajasthan; at Mahal Rajwada Resort we also have Banquet Hall for organizing various events such as weddings, kitty parties, birthday parties, get-togethers, official events, etc. The Banquet Hall is not only spacious but is also well decorated for hosting various types of events. The Banquet Hall is furnished with all the facilities for easily organizing events. With proper lighting facility which is very much required during various events and shows, the Banquet Hall is the perfect choice for organizing events.
Wedding Banquet Stage
As one of the topmost hotels based in Jaipur, Rajasthan, at Mahal Rajwada Resort, we are also offering Wedding Banquet Stage according to the different requirements of the client. Wedding Banquet Stage is perfect and also very necessary for many events such marriage ceremonies, reception parties, birthday parties, ring ceremony, etc. The Wedding Banquet Stage is properly decorated along with proper lighting which is suitable for different type of occasions. For the convenience of the clients we are also offering customized decorations and settings of the Wedding Banquet Stage.
Reception Banquet Hall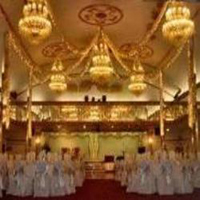 Based in Jaipur, Rajasthan, Mahal Rajwada Resort is one of the premium hotels located in the region. As a reputed hotel, we are also offering Reception Banquet Hall to the valued clients. The Reception Banquet Hall is just perfect for hosting wedding reception parties, press meets, seminars, conferences, etc. Our facility is perfect for organizing various events and has all the facilities to cater to your various requirements efficiently. With the Reception Banquet Hall you will also get our personalized services according to your requirement.